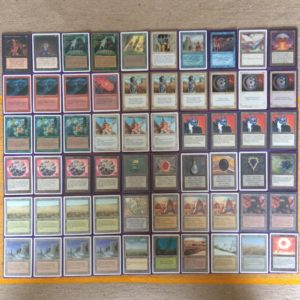 How can you balance aggressiveness and responsiveness, vehemence in killing and creativity in staying alive? How is a deck possible that is non-linear enough to be full of forward options and defensive answers?
Finding answers to these questions led to building the "Rodeo" deck: a White & Green body that is strengthened with artifacts and a basic red burn suite – and optionally refined with black and blue power splashes.
At its very core "Rodeo" works as White Green red mid-range deck, where you hold fast with cheap removal and build ground with a broad Mana base to bring out your midrange beaters and your opponent to his knees in the late game.
Starting with the body or core of the deck: 3 Erhnam Djinns and 3 Serra Angels form an army with a play set of mighty Su-Chi to steadily make your opponent fall. But you will have to stay alive until that army builds.
We have Sylvan Library and the tome for tuning your draw step and indispensable white removal to keep early threats at bay.
A broad mix from Duals, Fellwar Stones, Moxen and Lotus helps to develop your mana base while red burn spells harmonize the balance between defense and offense.
In recent play testing this deck earned its name "Rodeo" for holding fast while White Weenies and Black threats flooded the early board. Red burn, white power suit and Su-Chi made those aggro horses lame and tired, and even  a ratio of 5 to 28 life points had been reversed to a late game win after Rodeo took its Angels out for a fast ride home.
Variations: For those who are not (fully) powered: You can always replace Moxen with lands, and Lotus with Mana Vault. This deck also perfectly works as a 4 color variant without the blue splash by replacing Ancestral Recall and Time Walk with another Lightning Bolt and another Swords to Plowshares. Also: for the Mana Curve it could make sense to replace 2 Fellwar Stones with Birds of Paradise.