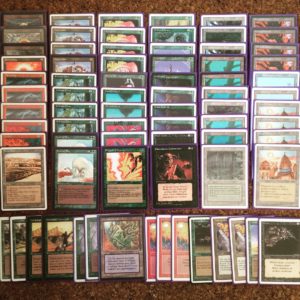 Attempting a green Deck in Old School will often yield a smile from more seasoned players. In the Top Tiered league of UWR Skies, Juzam Dreams, The Deck and the like Green is rarely featured. Actually a pity because Green can do a lot for you. It has this perfect mix of mana ramp, big beaters and spells to protect or tune your weapons.  Nevertheless you will learn that splashing red for Burn and Sideboard Options as well as the 2 black power spells is indispensable to make Green fit for tournament.
The Deck we present today has been named "Green Machine Head" in reference to the classy Old School Machine Head combo Juzam Djinn + Berserk. Other names this deck attracted was "Green Party Crasher" or simply "The Green Machine".
The core are 8 mighty fast beaters, i.e. Doc Erhnam Djinn and his artifact cousin Juggernaut, two 4 mana creatures you will most likely drop in turn 2 or 3 at latest thanks to the power of ramp: 4 Llanowar Elves, 2 Birds of Paradise, 1 Elves of Deep Shadow as well as Moxes, Lotus and/or Mana Vault.
With the help of 4 Giant Growth and 2-3 Berserk your Green Machine gets awfully big and will destroy everything that comes in the way, or just reduce your opponents life total to 0 in minutes. 1-2 Avoid Fate might prove useful to defend your Juggernaut who notoriously attracts Disenchant and Lightning Bolt.
The 2 Spitting Slugs proved to be essential: as 3 drops they perfectly fit the mana curve, they are Lightning Bolt prove and they will easily block Mishra's Factory, White/Black Knights and Kird Apes.
Finally a small collection of basic red burn spells as well as Demonic Tutor and Mind Twist are included to harmonize the Deck.
At the latest tournament the "Green Machine Head" landed Top 4.