Old School Magic is not just about the cards as we elaborated in our recent post "Posh vs. Budget", and winning any MTG tournament is always the result of the right mix between luck, skill – and the appropriate cards in your deck.
Thus although Old School might have an entry barrier due to small supply of super rare, .ie. super expensive old cards, it is far from guaranteed that you'll automatically end in the Top 4 only because you're the rich pimp with all available Power cards stacked together in a deck you've copied from the latest Noobcon list.
Actually yesterdays local Old School trial tournament for the Magic Bazar Eternal Weekend showed quite surprising  results, that we'll share with you today to make our point clear.
Who would have believed that a neat and clean powerless White Weenie would catch the trophy in an Old School tourney? Sure enough the navigator of this Weenie Deck is an apt MTG player who knows the rules of the game from the heart, but apparently he also knew all the tricks of his army of lil' creatures and how to navigate his budget deck through the mists of Powered Decks and Black brews. According to the winner it was the double main decked Land Tax that made all the difference, together with that unstoppable flood of one and two drops under Crusade.
Black indeed. Swamps quickly become the dominant land drop in Old School when Fallen Empires is included: Hymn to Tourach simply rocks the house, and we saw quite a few 1st round Hymns cast with help of Dark Ritual or Mox Jet.
The 2nd place was conquered by a CermakAttack version that successfully played 4 Psychic Purge in Sideboard to give the Black breed appropriate fodder: a Hypnotic, Hymn or Mind Twist drawing Psychic Purge resulted in 5 damage right in the face. Together with 1st round Lions and 2nd round Efreets and Psionic Blast as finisher this tournament classic was a success.
The rest of the Top 8 list was dominated by 5 Black players: ranging from brutal MachineHeads on 3rd and 4th place, a brilliant take on JuzamNetherVoid on 5th, to extreme DiscardRack on 6th and UB Tempo on 7th.
Two of the Top 8 Decks:
Winner: White Weenie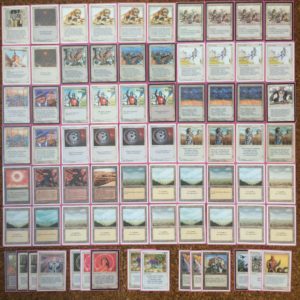 3rd place: Black red MachineHead